Sand cooler : mastering your moulding sand
The RFD Cooler is specifically designed to provide the mixer system with sand that is cooled to temperatures that allow optimal mulling, premixed to eliminate return sand variations and with a moisture content controlled within tight tolerances. The result is optimal moulding sand and high-quality, profitable castings.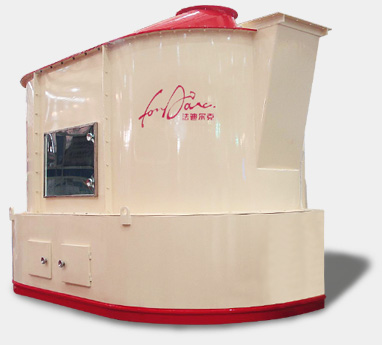 when the start of the cooling system, the control system first detects the temperature and  moisture of the return sand and accordingly determine the rough amount of water; the return sand get into the cooler, in a blender and wind driven, the return sand is moving in the horizontal and vertical direction of "∞"-shaped three-dimensional. At the same time, Water adding system will determine the amount of water evenly and spray the water into the return sand, The water evaporation will take away a lot of heat, Hot water vapor was quickly drawn into the dust collector system from the upper of the cooler , Temperature and moisture sensors are continuous monitoring the temperature and moisture changing of the return sand . At the same time, Based on the sensors monitoring motor load, the control system adjusts the discharge door opening to maintain a constant volume of sand in the cooler at all times.By detecting the outlet sand temperature and moisture, feedback water control system, adjusting the quantity of water, ensure the return with sand high-efficiency cooling.
Supervision : efficient control system
Sand inlet temperature, moisture detection
Sand inlet flow control
The main mixing motor current control
Ambient temperature detection, and blast volume adjustment
Water flow control
Sand outlet temperature, moisture detection
Characteristics of RFD sand cooler range
Productivity
(t/h)
Main drive power
(kW)
Blast volume
(m3/h)
Blower power
(kW)
Exhaust volume
(m3/h)
Size
(L x l x h)
Equipment weight
(t)
RFD 45
45
22
10000
30
13000
4475 x 3610 x 3100
6,2
RFD 60
60
22
12000
30
16000
4587 x 3610 x 3324
6,3
RFD 80
80
45
15500
37
19000
5163 x 3820 x 3478
8
RFD 120
120
55
18000
45
22000
5163 x 3820 x 3678
8,26
RFD 140
140
75
24000
75
30000
6881 x 4410 x 4373
15,12
RFD 160
160
90
26850
75
33490
6881 x 4410 x 4373
15,5
RFD 200
200
132
35870
90
44540
7331 x 4730 x 4723
21,9
RFD 250
250
160
44880
132
55760
7331 x 4730 x 4943
22,2
RFD 300
300
200
53890
160
66980
7791 x 5070 x 4943
25