Foundry mixer : an important step forward
Foundry Green sand mixers had scarcely evolved in the past twenty years. Today's ROTOMAX mixer serie, developed by SCOVAL FONDARC is an important step forward in the field.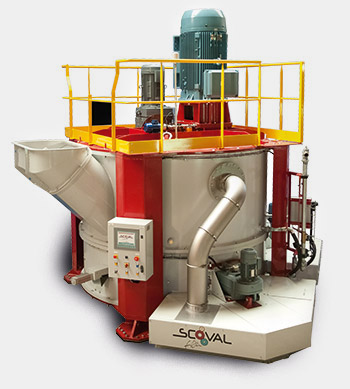 It consists of a new mixing concept that automatically adjusts the speed of the paddles to the type of sand required and to the sand's changing physical characteristics throughout the mixing process.
In fact, the processing of the sand changes throughout the duration of the cycle.
The sand's reaction to the paddles evolves with the humidity level, and the interaction of the individual grains changes due to the transformation of the claylike paste that envelopes them.
Due to its innovative technology, the ROTOMAX foundry mixer allows you to:
Optimize and standardize the quality of your molding sand
Reduce your energy consumption,
Reduce the amount of waste and the consumption of additives,
Reduce your maintenance cost.
Easy maintenance thanks to the accessibility
Due to its design, the ROTOMAX green sand mixer allows easy access to its mechanical parts and requires practically no cleaning. The way the equipment works is perfectly suited to the characteristics of sand and minimizes its heating.
The competitive advantages of Rotomax
Our foundry green sand mixer equipment found in steel, iron, aluminium and bronze foundies offers excellent results and the following advantages:
Its better mixing effectiveness leads to a reduction in binder consumption,
A noticeable improvement of the sand's flowability and permeability,
Easier knock out and decreased water use
Decreased electricity use leads to savings on power and energy consumption
Characteristics of the mixer range
Type
Capacity
(kg)
Nominal flow
(T/h)
Max flow
(T/h)
Total power
(kW)
Ht tank
(mm)
ø tank
(mm)
Ht total
(mm)
Machine weight
(T)
RTM 750
750
18
27
53,5
1525
1600
2455
5
RTM 1000
1000
24
36
62,5
1650
1600
2655
6
RTM 1500
1500
36
54
110
1700
2000
2825
9
RTM 2000
2000
48
72
133,5
1750
2200
2980
12
RTM 2500
2500
60
90
192
1875
2400
3240
18
RTM 3000
3000
72
108
239
2040
2600
3350
19
RTM 4000
4000
96
144
298
2055
2800
3365
25
RTM 5000
5000
120
180
373
2280
3100
3525
27
RTM 6000
6000
144
216
470
2425
3300
3565
35
RTM 7000
7000
168
252
585
2659
3300
4580
39