Industrial robot, an asset for your productivity and your competitiveness
Confirmed supplier in industrial automation, Scoval Robotic designs and integrates robotics into your manufacturing process with efficiency and reliability by using virtual reality to visualize your project before implementation.
In all industrial areas, the high-performance robots and Scoval Robotic expertise will allow you to meet the challenge of the Industry of the future.
Dans tous les domaines industriels, les hautes performances des robots et l'expertise Scoval Robotic vous permettront de relever le défi de l'Industrie du futur.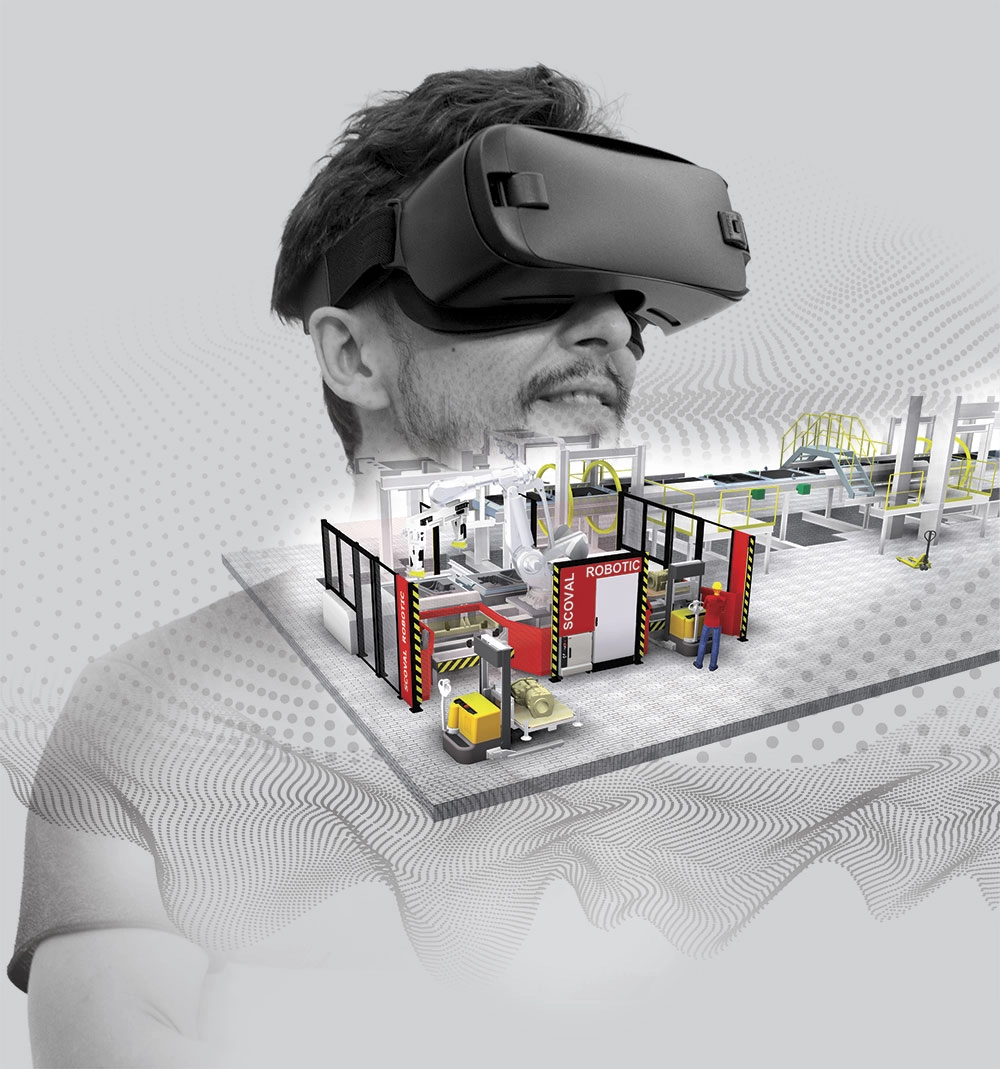 Integrating a robot : what are the advantages?
Reproducibility and reliability of operations guaranteed
Improved productivity and quality level
Depreciation of the installation
Reassignment of operators to more technical tasks
Easy integration and evolution in a process
Manufacturing
Connectability and maintainability
Integrating an industrial robot: for what use? :
Control
Stick
Coat
Deburr
Transfer
Machine
View
Punch
Engrave
Handle
Unpack
Assemble
Clean
…
Robotization in your industrial project: the Scoval service
Support upstream of the project in establishing your specifications according to your needs and environment
3D pre-study and virtual reality
Study, definition, manufacture of equipment and associated structures
Load handled from 0 to 2000 kg
All brands of robots
4 to 6 axis technology
Type of work: all industries
In stand-alone or integrated operation
Installation, start and after-sales service
A concrete example:
Robotization of an existing molding line, boxes dimensions 1600 x 1400 x 400 mm.
Cleaning robotization of tapping hole and risers.
Installation characteristics
Installation of 5 robots to ensure:
Fin milling on box.
Cores laying online, weight 250kg max with 2D vision.
Filters laying and marking of the interior mould.
Blow-cleaning risers-holes on cope box.
Big cores laying out of line, weight 600kg max with 3D vision.
Each robot adapts its cycle according to the production information transmitted by the existing PLC machine of the moulding line.
Customer benefits
Reproducibility and reliability of the operation guaranteed
Improved productivity and quality level
Very fast amortization of the installation
Reassignment of the operator to more technical and less hard work