A compact green sand mixer for foundry
Our mixers ROTOMAX used for the preparation of green sand, move in product line.
The COMPACT ROTOMAX combining 3 functions in 1 is available in three sizes for productions from 7 to 20 tons per hour.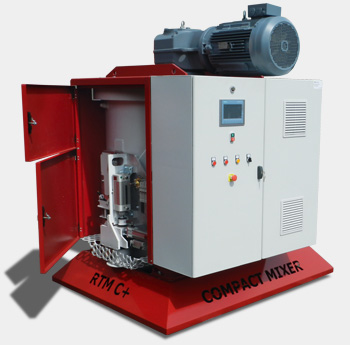 These entry-level compact mixers designated RTMC benefit from our technologies developed on our mixers ROTOMAX and our ROTOCONTROL controllers.
They meet first a mixer with variable speed with its control cabinet and can in its evolution C+, integrate controller able to measure the compactability.
Technological, economical

and upgradable
Technological mixer, Variable rotation speed tools for optimal mixing efficiency.
Economical mixer, Motor controlled by inverter speed, to save energy consumption and to control power usage.
Upgradable mixer, Thanks to different options, it is possible to you to upgrate your first installation by integrating new modules.
With this new concept of COMPACT mixer 3 in 1, we offer to our customers:

A technology to link efficiency and economy,
Integration easy thank to the COMPACT design,
Technical options to upgrade step by step the investment.
C+ option: 3 in 1 solution
Here are 3 modules configurable option at all times:
Measurement module : Compactibility each end of cycle
Regulation module : Compactibily during cycle depending of the temperature and weight
Additives module : Additives dosing
Characteristics of compact mixer range
| | RTMC 200 | RTMC 400 | RTMC 600 |
| --- | --- | --- | --- |
| Max production (t/h) | 7 | 14 | 21 |
| Power | 20 | 32 | 47 |
| Tank diameter (mm) | 1000 | 1200 | 1600 |