Mixer cooler : make your sanding plant easy
This is a new concept in which the cooler and mixer are no longer two separate machines but comprise one single entity. It is an extension of our ROTOMAX foundry green sand mixer.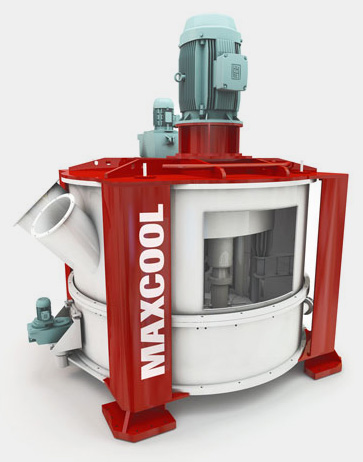 The Rotomax is a standard mixer to which we have added a distributor at the centre of the tank, air injection pipes next to the instruments and an adjustable centrifugal fan.
Because it is a batch machine, all the parameters are measured at the beginning of each cycle (sand temperature, air temperature, humidity, weight).
Based on these measurements, but also on the results of the previous cycles, the quantity of water and time needed for cooling are accurately measured.
In addition, to keep the fines (Bentonite/Coal Dust) from entering the air cooling flow, the sand is humidified (moisturized) before the air register is opened. Unlike in the continuous cooling systems, the cycle is precisely adjusted to the cooling requirements.
A new concept for moulding sand cooling
The sand is weighed before the tank is filled
The humidity and the temperature of the sand are measured before the tank is filled
The needed quantity of binder (bentonite and black) is accurately determined
The temperature of the sand is measured before being poured into the mixer
The temperature of the air leaving the cooler is measured
The temperature of the sand leaving the mixer is measured
Advantages of the mixer cooler MAXCOOL
The equipment used in steel, iron, aluminum and bronze foundries offers excellent results and the following advantages:
Two functions: mixer and cooler in one single unit,
The sand plant is simplified,
Decrease in power use leads to power and energy consumption savings,
Improved mixing efficiency leads to a decrease in binder consumption,
Noticeable improvement in the sand's flowability, as well as its permeability,
Easier knockout and decreased water use.
Characteristics of the mixer cooler range
Type
Capacity
(kg)
Max flow
(t/h)
Number of tools
Power of tools
(kW)
Power carousel
(kW)
Blast power
(kW)
Total power
(kW)
Tank height
(mm)
Tank diameter
(mm)
Sand height
(mm)
MXC 15
750
15
2
37
15
11
64,5
1525
1600
373
MX 20
1000
20
2
45
15
15
77,5
1650
1600
497
MX 30
1500
30
3
90
8,5
18,5
128,5
1700
2000
477
MXC 40
2000
40
3
110
22
22
155,5
1750
2200
526
MXC 50
2500
50
3
160
30
30
222
1875
2400
553
MXC 60
3000
60
3
200
37
37
276
2040
2600
565
MXC 80
4000
80
4
250
45
45
343
2055
2800
649
MXC 100
5000
100
4
315
55
55
428
2280
3100
662
MXC 120
6000
120
4
400
75
75
553
2320
3300
701